On this 2km excursion, you'll see some of the most innovative buildings constructed in Toronto during the last decade, including those by international "starchitects" Frank Gehry and Daniel Liebeskind, along with several heritage gems. Our walking tour takes us from the intersection of St. George and Bloor Streets, where the Annex, a historic residential neighbourhood, meets the University of Toronto campus, down to the Art Gallery of Ontario. Along the route you will notice how the city and campus flow into and out of one another, enriching the urban fabric. We'll view the work of Toronto's own KPMB Architects and learn how they respond to the context of each project, utilize a unique material palette and foster a distinct creative ethos.
Highlights include such historic gems as the polychromatic Victorian Royal Conservatory, Romanesque University College, once described as "one of the most beautiful buildings in Canada" by University of Toronto Professor of Architecture Eric Arthur, and the newly restored Munk Centre, formerly the Meteorolgoical Society.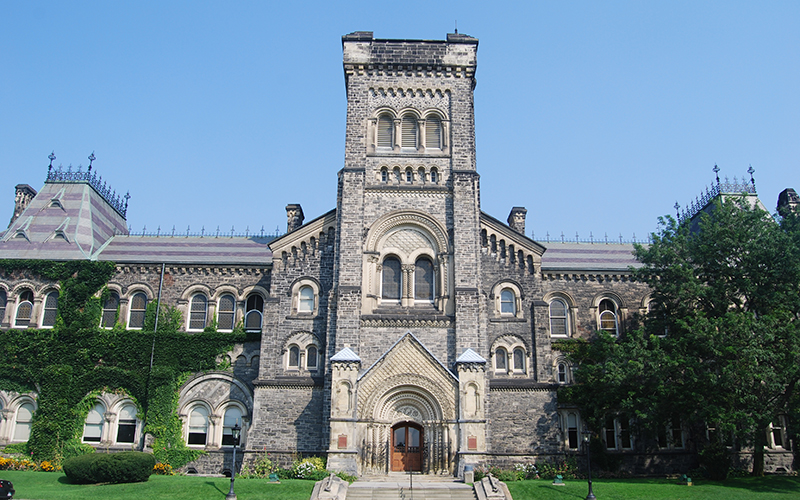 Philosopher's Walk, a treasured space that continues to evolve, once marked the course of Taddle Creek, one of a series of creeks that have been buried underground by the city. Incredible though it seems, the present site of Hart House was once dammed up to create a pond.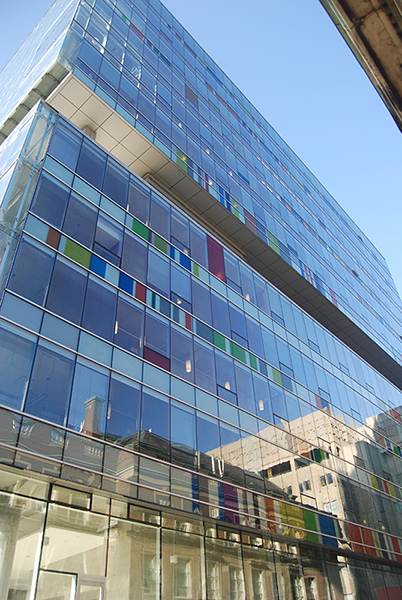 On College Street in the heart of the Medical Discovery District, most passers-by have never ventured into the lobby of the Terrence Donnelley Centre for Cellular and Biomolecular Research, a place of cutting edge interdisciplinary scientific research. This building provides a thoroughfare between College Street and the Medical Science Building/Kings College campus and the nearby subway station. If you think the pattern of coloured glass on the east side of the building is completely random (you probably didn't notice the coloured glass at all) do plan to join us on one of our walking tours this season to learn what it is.
Farther south, the iconic OCAD University creates a gateway to Grange Park, while the billowing facade of the Galleria Italia, a spectacular glass and Douglas Fir "corset" spans the entire front facade of the Art Gallery of Ontario. Gehry's design, his first for Toronto, enables museum-goers to see 10,000 new works on display, including Canadian collector Kenneth Thomson's 2,000 artifacts.
Our 1-1/2 hr. excursion of the Cultural University and Discovery Districts will leave you with an inspired appreciation of this rich and magnificent neighbourhood. This tour is highly recommended for visitors or residents who want to explore one of Toronto's most beautiful and culturally vibrant neighbourhoods, and gain insight into the various factors that shape the city today. Join us for FREE walks during Jane's Walk (Saturday, May 3) or during Doors Open weekend (Saturday and Sunday, May 24/25). Visit www.onthetown.ca/walkingtours.html for full details.