As a wave of snowstorms descended on the GTA last week, I visited the annual Christmas Flower Show at Allan Gardens Conservatory. This jewel-like landmark structure, which received the 2015 NOW Magazine "Runner-Up" as "Toronto's Best Free Hangout," features five cool and tropical greenhouses which showcase a diverse collection of exotic and unusual plants along with imaginative Christmas-themed displays. Although not usually on the radar for out-of-town visitors, Allan Gardens provides one of the most delightful spaces in Toronto to escape winter's wrath. It's open from 10am-5pm 365 days a year and admission is free. As a woman wandering through the Tropical Landscape House beside me said, "It's THE place to go if you need a lift."
Conveniently situated in the park bounded by Sherbourne, Jarvis, Carlton and Gerrard Sts., and accessible by either the College St. East streetcar or the Sherbourne bus (south from Sherbourne Station), the Conservatory was built on land donated by George William Allan, a former mayor and Senator, and president of the Toronto Horticultural Society in 1857, for the purpose of beautifying the city with public gardens.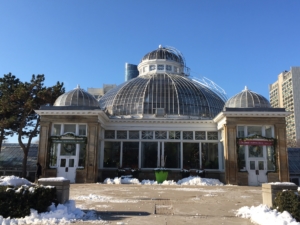 The original Horticultural building was a rustic-looking, multi-purpose Victorian style "pavilion" by Langley and Burke, which originally opened in 1879 and then burned down in 1902. The existing 60-ft. high cast-iron and glass Palm House, which was designed by the City architect Robert McCallum, was built in 1910.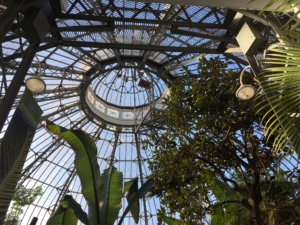 You might be surprised to learn, as I was, that although McCallum served as City architect from 1903-1913, and designed a number of public buildings such as police stations, fire stations and libraries (one of his most well-known and remaining projects in the Yorkville Public Library) he was only a draftsman and engineer, and had no formal training as an architect. Two of his employees actually produced the drawings for which he received credit! The two "cool" greenhouses that adjoin the Palm House were added to its north and south sides in the 1920s, and three additional greenhouses (including the Tropical Landscape House with its colourful mixture of fruit trees and exotics and the Arid House which features a large display of cacti and succulents) were added as the site expanded in the latter 20th century. The Children's Conservatory, which formerly sat at College and University Aves., is closed to the public but features horticultural programs for children.
If you enter Allan Gardens from the west side off Horticultural Ave. near the parking lot, into the first Tropical House, you'll be momentarily transported to another world, as a wave of fragrant, warm tropical air suddenly envelops you.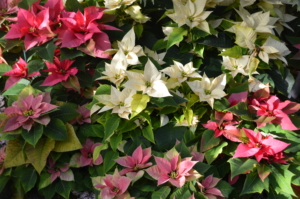 Over 40 varieties of Poinsettias bursting with beautiful shades of pink, red and white are planted alongside the collection of Bromeliads and orchids. Don't miss the turtle pond (I spotted nearly 15 red-eared sliders happily ensconced in this habitat) and the imaginative Amarylis Christmas tree. Continue to make your way through the Cool Temperate Zone, where children and adults will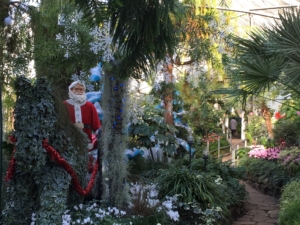 delight in the life-size display of Santa and his sleigh; at one end of the azalea- and citrus-filled room, a miniature train carrying carloads of flowers circles an elevated track. Move into the Palm House and take in the many different varieties of palms (according to Conservatory staff there are more than 12), bananas and tropical vines, then make your way through the remaining greenhouses, where Christmas-themed plantings and exotic decorations mingle with Camelllias, Jasmine and plants from Australia and the Mediterranean. Don't miss the Arid House with its collection of cacti and succulents. For a moment you can imagine that you are in Arizona or the California desert!
The pleasure of being surrounded by the beautiful colours, textures and fragrances of such a variety of plants will delight the senses and boost your mood on even the coldest and greyest of winter days.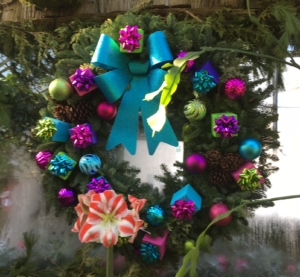 Make a note to return in February when the annual show of spring flowers and bulbs finally arrives. I hope you'll agree that Allan Gardens is one of Toronto's hidden treasures. For further information phone 416-392-7288. Happy Holidays!